Description
The ENFORCER Outdoor Wave-to-Open Sensor is a full-featured exit plate which uses IR technology to allow egress from a protected area or activate a device with the simple wave of a hand. Since no touch is required, this sensor is suitable for use in hospitals, clinics, labs, cleanrooms (to reduce the risk of contamination), schools, factories, or offices.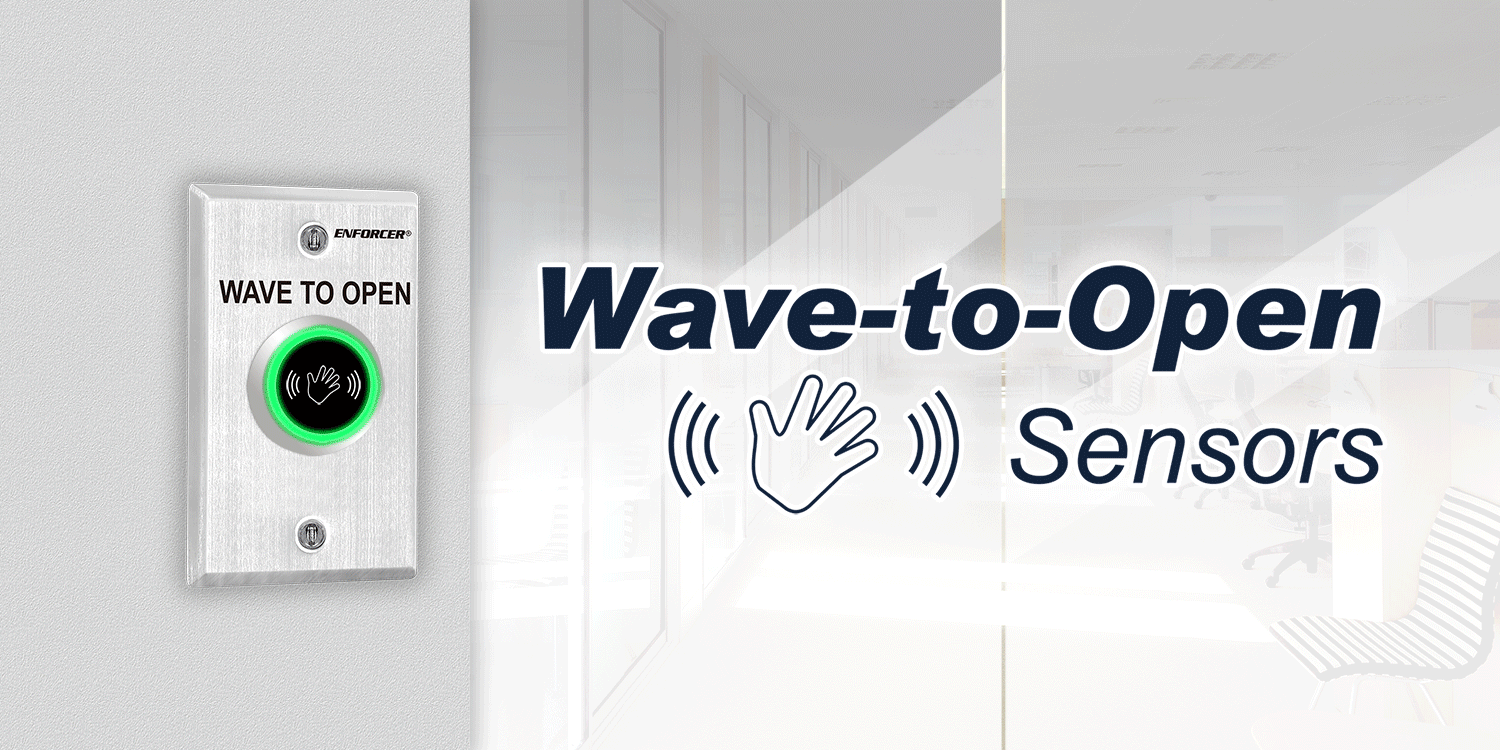 Conforms to UL294
Adjustable sensor range up to 7″ (18cm)
Weatherproof (IP65) for outdoor use*
Stainless steel plate
1.2A relay, adjustable trigger duration 0.8~30 seconds or toggle
LED illuminated sensor area for easy identification
Selectable LED colors (turns from red to green or green to red) to show sensor activated
​*When properly installed
Specifications
Type
Outdoor Wave-to-Open Sensor
Current Draw
Standby-

 

16mA@12VDC

 

/

 

25mA@24VDC, Triggered-

 

25mA@12VDC

 

/

 

32mA@24VDC
Sensing Range
2″~7″ (5~18cm)
Operating Voltage
12~24 VDC
Reaction time
10mS
LEDs – Red
Standby (Colors are reversible.)
LEDs – Green
Triggered (Colors are reversible.)
Relay Type
Form C dry contact

 

1.2A@24VDC
Output Time
0.5~30 s, toggle
Operating Temperature
-4°~131° F (-20°~55° C)
Dimensions
4-1/2″ x 2-3/4″ x 1-1/2″ (115 x 70 x 39 mm)
Weight
108g
Enclosure
Weatherproof IP65
Troubleshooting
| | |
| --- | --- |
| Sensor is triggering unintentionally. | ENFORCER Outdoor Wave-to-Open Sensors can be used either indoors or outdoors. However, due to infrared technology limitations, it is recommended that a hood or shield be used when installing outdoors to shield the sensor from direct light (sunlight, reflections from shiny objects, etc.). Direct light may cause the sensor to trigger unintentionally. |
Payment & Security
Your payment information is processed securely. We do not store credit card details nor have access to your credit card information.